The summer season often brings nostalgia from our childhood days with endless ice-creams, mangoes, ice candies and cooling drinks. From playing with friends even during hot summer afternoons to going on vacations to our native place, we grew up eating delicious food prepared with lots of love and spices. Even in summer, having the right balance of spices in our diet is essential. The bioactive compounds in the Indian spices help soothe the body and mind in the heat. The increasing summer heat and the incoming heat waves can drain your energy leading to dehydration, irritation and fatigue. But, don't worry! Tit-Bit Spices have got your back! Many Indian spices and herbs have medicinal properties that can maintain the body temperature and protect you from scorching heat.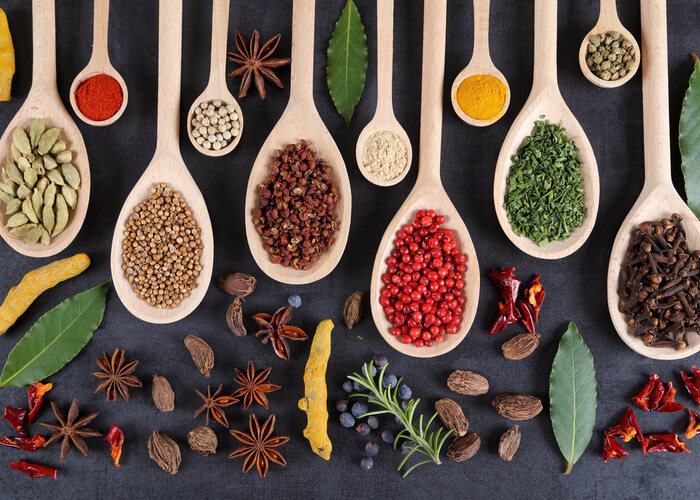 With summer in full swing now, here are some spices and herbs that can help you keep your body cool and enjoy summer to its best.
1) Mint – The Cooling Herb
Mint is an excellent cooling herb for the summer season. The anti-inflammatory and anti-bacterial properties of mint leaves will keep your skin fresh and avoid summer acne breakouts. The menthol in mint soothes the gut and digestive system and keeps your stomach healthy.
How to use mint:
Add fresh mint leaves to your water bottle and drink the mint infused water to stay hydrated and fresh. Mint chutney or lemonades garnished with mint leaves is another tasty way to include mint in your diet this summer.
2) Cumin – The Aromatic Spice
Cumin seeds are one of the best Indian spices to cool your stomach during the summer season. They are a great help to reduce flatulence and bloating to make your body feel lighter and cooler.
How to use cumin:
Add flavours and spice to your chaas or lassi this summer with some freshly roasted cumin seeds. Roast a few cumin seeds and blend them into a coarse powder and enjoy the cool drinks on hot summer afternoons. You can drink cumin water every morning to keep your body fresh throughout the day.
3) Coriander – The Healthy Herb
Say goodbye to toxins and excess heat with this healthy herb! Coriander leaves and seeds help to reduce inflammation in the digestive tracts keeping the stomach healthy and light. Coriander seeds are rich in antioxidants with dietary fibers that help the liver in producing digestive hormones.
How to use coriander:
Coriander powder is a prominent spice in the Indian household and is used in almost every subzi, dals or curries. The flavorful spice is easily incorporated into our diets with Garam Masala too. Green chutney made with coriander leaves, mint leaves and a bit of raw mango is another way to add coriander and mint to your daily diet.
4) Fennel Seeds – The Gut Friendly Spice
Summer heat can cause hyperacidity and indigestion leading to dehydration in the body. A glass of water infused with fennel seeds can help to ease the irritation from the heat and also to calm down your stomach. Fennel seeds help in the production of intestinal juices that keep the gut healthy and the body cool during heat waves.
How to use fennel seeds:
Boil some water with a spoonful of fennel seeds and cool it down. Drink this water before stepping out in the sun or during periods of uneasiness to heal stomach burns and indigestion. Chewing fennel seeds after a meal acts as a mouth freshener and works like a miracle for the gut.
5) Cardamom – The Flavorful Spice
Cardamom is one of the finest culinary spices used in traditional Indian cooking. It is known to reduce symptoms of an unbalanced metabolism by helping to improve digestion. The consumption of Badi elaichi improves the overall blood circulation in the body and detoxifies toxins with its antioxidants. Choti elaichi has a cooling effect on the stomach and helps to fight bacterial infections.
How to use cardamom:
Add the seeds of green cardamom to your morning tea, and it'll calm your body during the summer days. Cardamom is also an essential kitchen spice found in garam masalas, and hence it is easier to include it in various vegetables, curries and rice dishes like pulao or biryani.
Isn't this easy and appetizing? We hope that these Indian spices will make your summer memorable by adding some spice and happiness!
Buy Tit-Bit Spices today to add extra flavours to your life.