The centuries old culture and tradition of India are deeply rooted in every individual. From rituals passed on from generation to generation to secret recipes taught by grandparents, India will always remain rich in being authentic in every aspect of life. The heart and soul of our country reside in cooking, serving and enjoying hearty meals with our families and friends. These elaborate meals are cooked with a combination of spices with irresistible aromas and flavours. Tit-Bit Spices has been serving you with the finest spices from all over the country for over 20 years. Let us see which are the five most essential spices for your kitchen.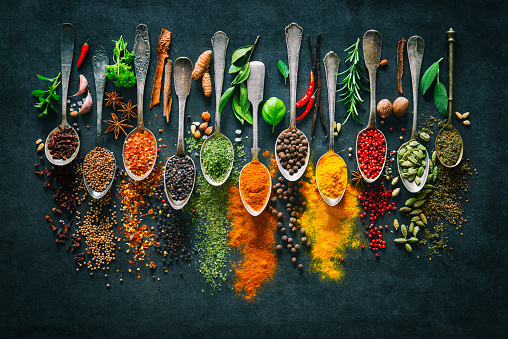 1. Red Chillies
Most Indian curries are incomplete without the spicy punch of red chillies. Red chillies have multiple varieties and are grown in many states and regions across the country. Chillies from each region vary in spiciness and are used in numerous traditional recipes with unique techniques. Try Tit-Bit Spices' Chilly Powder for a flavourful punch to your home cooked meals. Our Chilly Powder will become an essential spice in your kitchen to add a distinct fiery, tangy flavour to make any dish extraordinary.
2. Coriander Seeds
Coriander seeds colloquially known as Dhaniya have a warm subtle nutty and tangy flavour with a beautiful aroma. It is one of the most famous spices used in Indian kitchens and a vital element in the common Garam Masala. Tit-Bit Spices' Coriander Powder is made of rich green coriander seeds that satiate the cravings for a flavoursome dish. Our coriander seeds are dry roasted to perfection for an intense flavour and aroma before grinding and packing. Fill up your spice box with this essential spice and get ready for compliments on your food from everyone!
3. Cumin Seeds 
Cumin Seeds or Jeera are small, long seeds with a nutty, smoky and bittersweet taste. There are two ways to add cumin seeds to any dish – as a whole or by blending them into a fine powder. Tit-Bit Spices' Cumin Powder is made from the country's best cumin seeds. It adds richness and warmth to your favourite Indian recipes by elevating your taste palettes. You can also sprinkle Tit-Bit Spices' Cumin Powder on your summer drinks like lemonade and Aam ka Panna to elevate the taste and add a cooling effect to the heat. It can improve your digestion, immune system and blood circulation with its anti-inflammatory properties.
4. Turmeric
Turmeric is one of the most ancient spices with multiple health benefits. The bright golden yellow colour of Turmeric distinguishes it from all the masalas in the Indian kitchen. Tit-Bit Spices' Turmeric Powder has a strong woody and pungent flavour. It is packed with nutrients and an earthy aroma making it an essential spice in your kitchen. The rich golden yellow colour of Tit-Bit Spices' Turmeric Powder amplifies the deliciousness of any dish along with its woody and pungent flavour. Add our turmeric powder to warm milk and boost your immunity with turmeric's scientifically proven medicinal properties. Its antioxidant and anti-inflammatory properties make it a must-have in your kitchen for the best Indian masala.
5. Black Pepper
Black Pepper is considered the King of Spices and is pungent and fiery in taste. It is one of the main ingredients in the Garam Masala to add heat and increase the level of spiciness. Tit-Bit Spices' Black Pepper powder is prepared from a perfect blend of dried and roasted black pepper seeds. Our Black Pepper powder imparts a biting taste to every preparation with its strong aroma and taste. Cook and garnish your favourite cuisines without compromising your taste buds.
What are you waiting for? Start adding Tit-Bit Spices to your spice box and you'll be showered with compliments on everything you cook for your family and friends! We ensure that these traditional spices will increase your love for food and cooking.